Lake Ford Service Center in Milwaukee
Ford Service in Milwaukee, WI
If you want award-winning service with a customer-oriented approach, service your Ford at Lake.  Here at
Lake Ford
, we provide expert automotive care and service. Whether you have 10,000 or 150,000 miles on your vehicle, our team wants to make sure your Ford stays running in top-notch condition for miles and years to come.
Keep Your Ford in Peak Condition with Automotive Services at Lake Ford
No job is too big or too small for our extraordinary service team and choosing Lake Ford assures you will have access to the latest specialized technology from Ford certified technicians in a state-of-the-art facility. Whether you need an oil change, filter replacement and tire rotation, or more extensive services like a brake job, transmission service or even a complete engine rebuild, our expert ASE certified mechanics will get you back on the road.  
Come to Us For: 
Lube, Oil & Filter Change 
Front End Alignment 
Maintenance (Wipers, Headlights, Etc.) 
Brake Repair 
Engine Diagnostic 
Struts 
Muffler / Exhaust Repair 
Coolant Flush 
Tune-Up 
Vehicle Checkup / Inspection 
Transmission Flush 
Electrical Service 
Tire Balance 
Filter Replacement 
Tire Rotation
Routine Oil Changes
It is essential to have an oil change according to the Ford manufacturer's specifications. Generally, you should have at least one oil change every six months or 7,500 miles. It is best not to wait until your oil reaches 0% because this could damage your engine. Luckily, Ford vehicles have a feature on the dashboard that lets you know when you need to change your oil. When you bring your Ford to our service department in Franklin, WI, we will change your oil to ensure your engine will perform at optimal levels and prevent friction damage.
Tire Rotation
Our technicians typically perform a tire rotation as a routine part of your maintenance service. As you drive around Greendale, WI, the tread on your tires will wear down, but they will wear down unevenly. Rotating the tires will help evenly distribute the wear on your tires so they can last longer.
Engine Inspection
Of course, if your engine isn't in great shape, your car won't run properly or at all! The technicians at our dealership in Milwaukee will inspect your Ford's engine to look for any potential problems and help maintain its performance and efficiency. They will examine the valves, hoses, crankshaft, cylinder, oil pan, and other engine parts for friction damage, leaks, and clogged filters.

A Broad Range of Knowledgeable Technicians near Greenfield, WI
Think about how expansive the Ford lineup is. With large trucks made for taking on the jobsite to family SUVs built to take on long road trips. Our auto service technicians are extensively trained to perform auto service on any Ford model including the Ford Edge, Econoline, Escape, Expedition, Explorer, Flex, F-150, F-250, Focus, Fusion, Mach-E, Mustang, Ranger, Transit Connect, and Taurus. We have special expertise servicing Medium Duty and Super Duty commercial trucks and vans such as the F-350, F-450, F-550, F-650, F-750, Econoline Commercial Cutaway, Econoline Van E-150, E-250, E-350, E-450 and the Transit Connect. At Lake Ford, our technicians undergo regular, frequent training so they're always up to date on every component of your vehicle.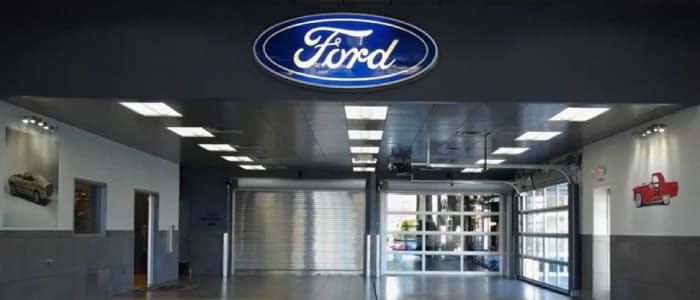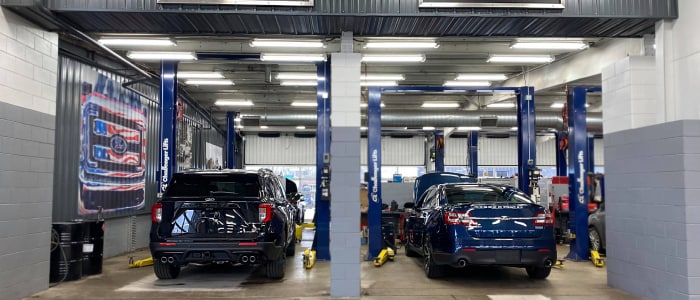 Fast, Accurate Service You Deserve
We put efficiency at the top of our list of goals. We know you have a busy schedule and sometimes getting your vehicle serviced falls to the bottom of your priorities. Our certified mechanics work quickly and accurately to deliver the service you need with minimal down-time. It's our way of getting you back on the road as quickly as possible because needing service shouldn't mean suffering through those other guys.  That's why we offer quick turnaround times, and if it can't be quick, we have loaner vehicle choices, so you never have to go without a vehicle.  
Make Your Next Appointment with Ease Today
Ready to have a service booking experience like never before? With the easy nature of our online service scheduler, you will have your service appointment on the books in a matter of minutes while you're on the go by using your smartphone. Or simply give us a ring to speak with one of our expert advisors about your issues, so you can get the appointment you need, right when you need it. Your Ford only deserves the best, and the best is what it will get when you choose to service it with Lake Ford in Milwaukee, WI.
Your privacy is important to us.
Our Dealership takes your privacy seriously and does not rent or sell your personal information to third parties without your consent. Read our privacy policy.